Atlanta Wireless Internet Service for Business


We offer

Atlanta wireless Internet service for business

customers who need highly reliable
Internet connections. This type of dedicated fixed wireless Internet service favorably replaces wired
access by completely bypassing the local phone and cable providers with fiber like performance.
We offer symmetrical bandwidth from 10 MB to 1 GB+. Our service is perfect for primary or
failover connections at very competitive rates.


Please click below to request a quote for:
Atlanta Wireless Internet Service
Below is one of our Atlanta Wireless Internet Service Coverage Maps: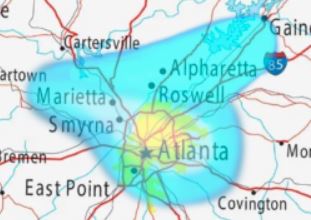 We directly represent multiple carriers in the Atlanta market and will offer
you both wireless and fiber connections where possible. All connections are
contracted directly between you and the carrier, we do not resell anything.
Your contact information is secure, you will be contacted by one trusted
telecom expert from within our company.


Atlanta Fiber | Ethernet Line | Atlanta Data Center and Cloud Providers | Request A Quote